Justin Timmons (May 16th, 2013)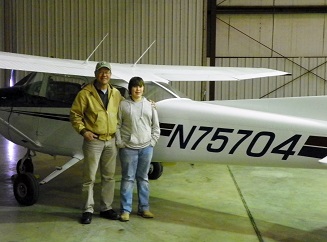 My name is Justin and I have been flying since August 2012 at the age of 14. I had an interest in flying, and with my Dad's encouragement we set out to find a company that was willing to let someone my age fly. We found Coyote Flight Center at Amarillo International airport. I had my first introductory flight and was hooked. My instructor is Louis Montano, although I have flown with all the instructors. I have learned a lot while at Coyote. I have 30 hours flight time and I do all of the radio work. I have attended ground school which is offered through Coyote. I feel that I will be ready to take my written test after completing the course. I plan on getting my private, instrument, and commercial license by the time I am 18. I will be able to get all of my training and lessons at Coyote. I want to thank Coyote Flight Center and Louis Montano for all their encouragement and willingness to work with me.

&nbsp
Bonnie Dugie (May 31st, 2013)
Thanks Josh for helping make our son's graduation day extra special with a scenic flight over Palo Duro Canyon. Thanks also for supporting the Boy Scouts of America and the Golden Spread Council. Everyone had a great time!